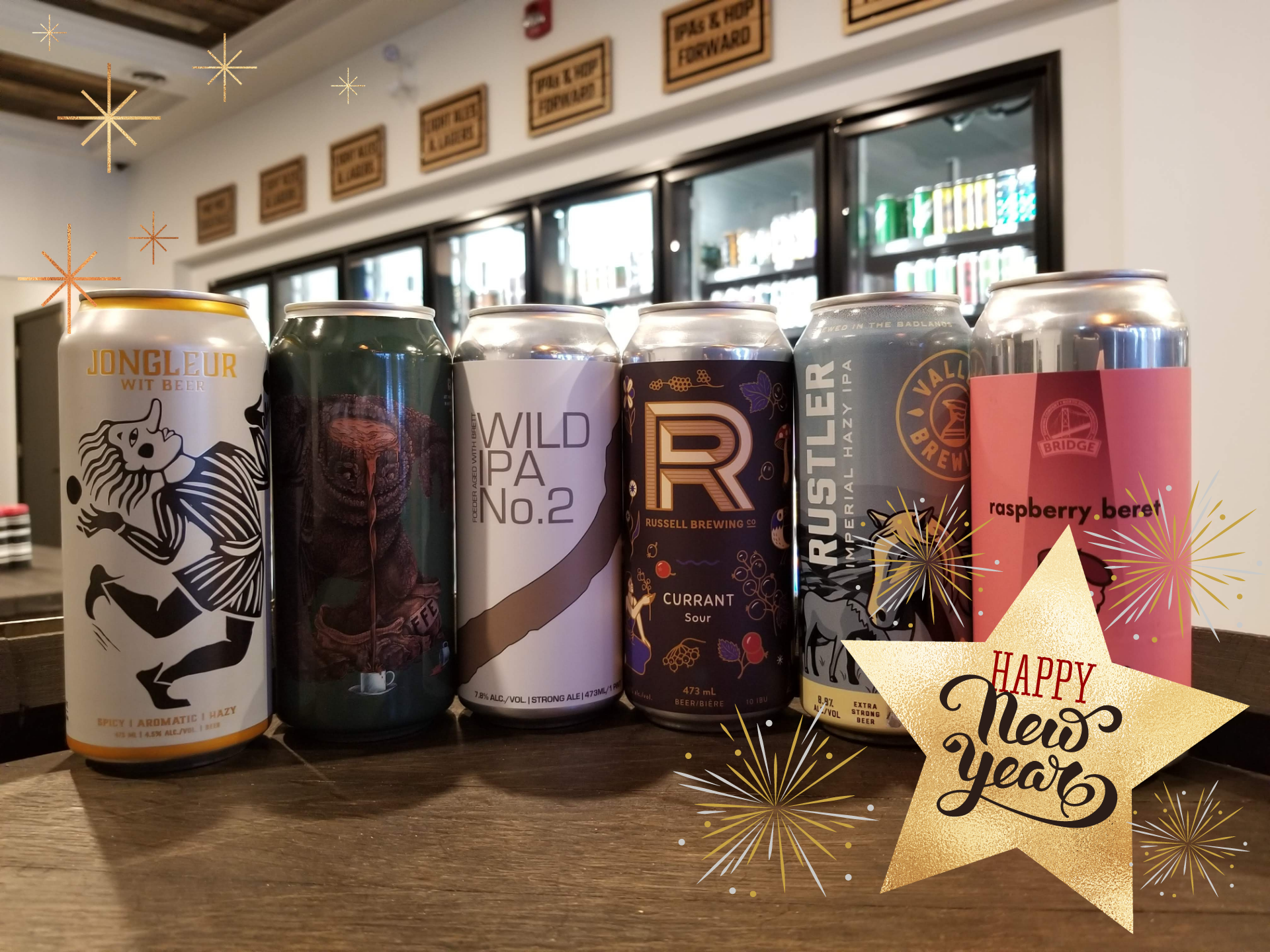 January 2021 Membeership Packs
January 2021 Membeership 2.0 Packs
Well, another year is in the books. We're willing to bet you never saw THAT coming. I mean, there's been talk of a Pandemic coming…but who whoulda thought it would come to fruition?! It was a bit wild for us – we had to adapt very quickly and make a lot of changes. But we are happy to report that people continue to enjoy craft beer, even during a Pandemic! Our little business will survive because people like you continue to support us. Here's a line up of beers that you can raise to 2021 and hope we can get back to some sort of normalcy soon.
 Jongleur, Strange Fellows Brewing, Vancouver, BC. Witbier/Wheat Beer, 4.5%
The Jongleur was a medieval fool that juggled, among other acts, to entertain the people of the time. 2020 was no joke, however, we could have used a bit of entertainment during our quiet times. Maybe we will talk to Nenshi about Calgary's own roving Jongleur. This beer is no joke either. It's a heavily awarded, spicy, and aromatic Belgian-Style Witbier that is bright and refreshing. This beer would pair well with lighter curry dishes, seafood, and soft cheeses.
Rustler, Valley Brewing, Drumheller, AB. Imperial Hazy IPA, 8.8%
This beer quickly became a staff favourite when it hit our shelves. And customers drained the keg dry in a matter of hours! So, naturally we had to include it in your pack this month. This beer is just one of many fantastic brews that Valley Brewing is putting out lately and we are big fans. Rustler is a big, dank, over-ripe tropical fruit, double dry-hopped, hazy citrus bomb. Here's a little tidbit about "double" or "imperial" IPAs. Many people think those terms mean "hoppier" or "more bitter". Not necessarily true! This is referring to the alcohol content. And in order to up the alcohol content, you need to add more sugar (malt) for the yeast to feed on to make more alcohol. Therefore, you end up with a LESS bitter, more balanced, slightly sweet IPA. Enjoy!
Wild IPA No. 2, Sawback Brewing, Red Deer, AB. Wild IPA, 7.8%
Last month we introduced you to a barrel-aged wild beer done using Brettanomyces yeast (Saisons in the Abyss by New Level Brewing). That was a Saison…this month we introduce to you an IPA aged in an American White Oak barrel (a Foeder) using the Brettanomyces yeast strain. You'll get some complex flavours of oak and bourbon, with a nice dry finish…and there's that funk again (albeit a bit more subtle this time). Don't hang on to this one as it's drinking great right now and the flavours will continue to change in the can if you store it.
Black and Red Currant Sour, Russell Brewing Co., Surrey, BC. Fruited Sour, 5.5%
Did you manage to catch our recent blog from one of our loyal Membeers? 'Headphones' is going to be writing some independent reviews on craft beer that we will share on our blog throughout the year. Here's what he had to say about this little gem… "This beer pours an absolutely gorgeous, murky, 'blood orange' red with a pretty, deep pink, bubbly head that diminishes quickly.  It has a fresh berry nose that gets jammier and reveals some yeasty funk as it warms. The sourness is fruity and pleasant with a lovely cassis punch. What I appreciate most about this sour is that it isn't a mashup of two or three different fruits trying to create some new flavour and falling short. It set out to be a currant sour and it succeeds admirably. It's rare that a sour holds my interest from first sip to last but this one does so in spades. Bravo Russell." Check out the full blog here: https://www.albertabeerexchange.ca/blogs/abx-blog/the-beer-round-here-introducing-headphones/
Raspberry Beret, Bridge Brewing, Vancouver, BC. Raspberry Porter, 6.5%
We've got two dark beers for you this month as we enter the deep depths of winter. This first one is a real pleaser. Tart raspberry up front with a lingering dark chocolatey finish. Not too sweet or overbearing, just really enjoyable. ...I was working part time in a five-and-dime…
Stranger Than: Coffee & Oat Milk Limited Release, Collective Arts, Hamilton, ON. Porter, 5.6%
Don't drink this one too close to your bedtime or the caffeine Batatut will get you! Brewed with coffee beans from Brazil and Columbia, this is a delicious roasted coffee porter with notes of chocolate. Instead of using a lactose base, they used unsweetened oat milk to give it a latte-like, silky-smooth finish. We love the artwork on this can too! It's a Coffee Bean Batatut (basically the Big Foot of East Asia) done by award-winning illustrator, Magge Gagliardi.
On a final note, we've been known to make a few changes here and there and this year won't be any different. We're starting by adding to our management team this month, followed by a lot of upgrades and exciting new things all year long. Keep an eye on our website and social media platforms for announcements. It's going to be a great year!!
Happy New Year from the entire ABX team.