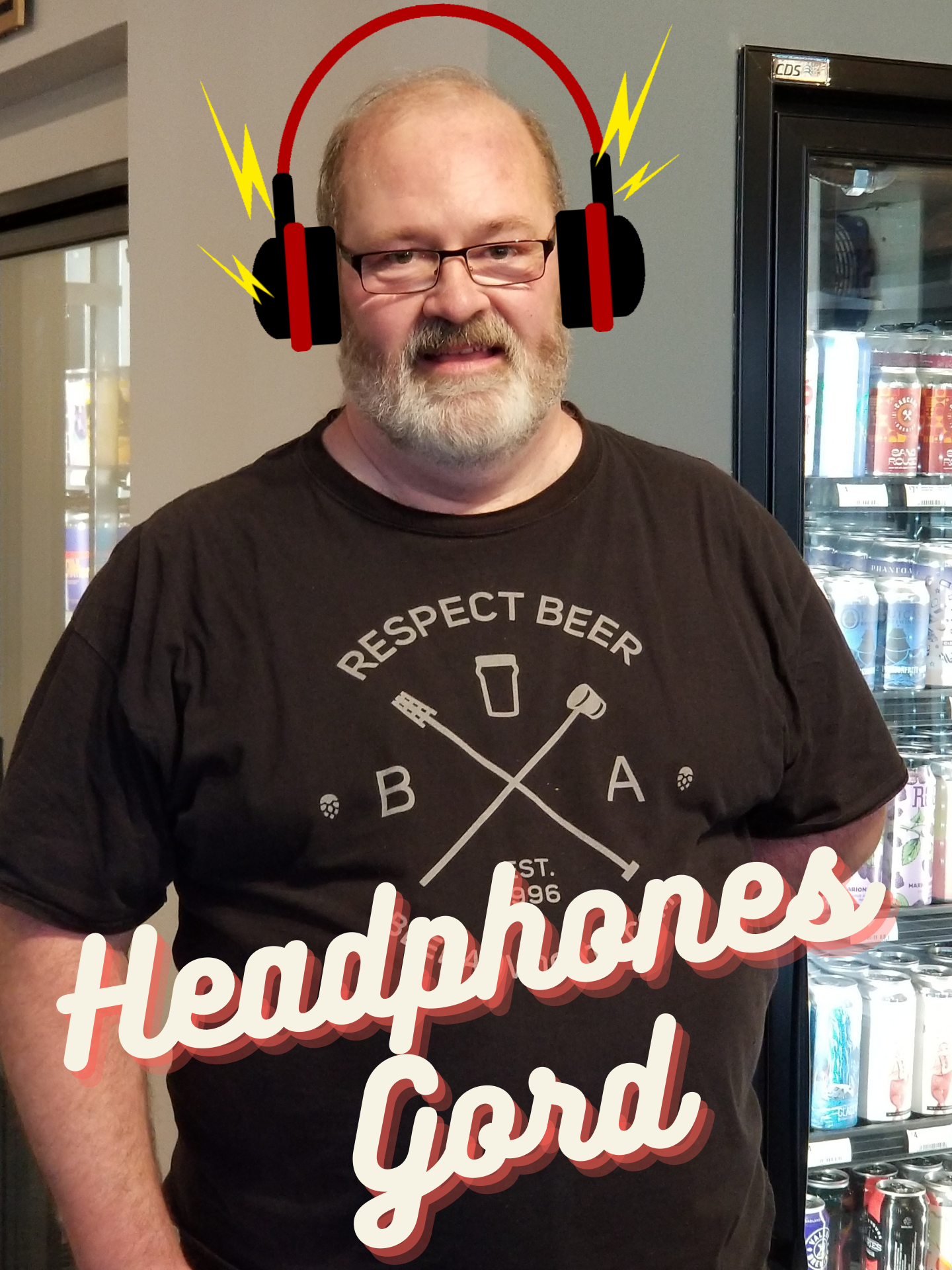 The Beer Round' Here - Introducing, Headphones!
While we can't recall exactly the first time we met Gord, we do recall that he was one of our first customers who came in to browse our humble beginnings. Standing at least 6' 5" and rocking a set of impressive headphones, he was a personality that was hard to miss. So we affectionately dubbed him: 'Headphones'. Over the past year and a half we've had great conversations about beer and quickly learned that not only is craft beer one of Headphones' great passions, but so is writing. And with that, we are pleased to share this independent beer blog from a special ABX Community Membeer! 
From the Desk of Headphones Gord: 
It has often been said that life's too short to drink bad beer.  Well, drink bad beer is exactly what I did, unknowingly, for a couple of years beginning in my late teens.  Then one night I was out for a couple of brews with some friends in my hometown of Lethbridge.  A pub we frequented was serving the usual national brands but had one beer I'd never seen before.  It was called Bass Pale Ale and was only slightly more expensive.  I wondered if I should give it a try or stick to my usual quaff.  Curiosity got the better of me and I took the plunge.  I instantly realized that not all beer had to taste the same.  Up to that point I had only been drinking lagers but this was an ale.  I didn't yet know what that meant, I just knew that it was different and I kind of liked it.  I didn't realize the decision to try a Bass Pale Ale would lead me down a slippery, but wonderful, path of discovery.  
At this point in my beer drinking journey I didn't realize that Prohibition in America (January 17th, 1920 to December 5th, 1933) had wiped out countless small, independent breweries, each of which had reflected the unique styles and tastes of beer from the countries where beer making immigrants had learned their craft.  It wouldn't be until the late 1970s that this pioneer spirit of brewing would begin to reappear and the modern craft brewing industry would be reborn.  It soon became my mission to try as many of these new, micro brewed beers as I possibly could.  No need to be stuck in a rut.  There was ever increasing new territory to explore.
Each month I intend to examine a different craft beer related topic.  One month might look at the best temperatures to enjoy various styles of beer.  Another may examine the various types of glassware that are available and why certain glasses are better suited to particular styles of beer.  Hopefully, over the months, we can all learn a thing or two about our libation of choice and have a little fun doing so.
In addition, I will be reviewing a few beers along the way.  I'm a firm believer that we all have slightly different palates and senses of smell so I don't expect you will always agree with my opinions but I hope that these reviews will give a sense as to whether you might enjoy these beers.  Put another way, please consider these reviews as guidelines rather than gospel.  
In order to avoid the 5 point rating system that seems to dominate beer reviews I've chosen more of a report card approach where a beer can earn anywhere from an A+ to an F.  Roughly speaking, the grade will reflect how likely I would be to drink that beer again.  This will be expressed as follows;
A: Don't miss this one
B: Well worth a try
C: Pretty fair
D: One's enough
F: Drain pour
Reviews
The Establishment Skyrocket VI NEIPA (7.3% ABV)
I had previously enjoyed Skyrocket and Skyrocket II but when Skyrocket III first showed up in the late summer of 2019 I was mightily impressed.  It was clearly a part of the Skyrocket family of NEIPAs but seemed a big leap forward.  Then followed Skyrocket IV and V.  They were very good NEIPAs but neither seemed to follow the trajectory of the first three.  So when The Establishment decided to re-release Skyrocket III a couple of months ago I was delighted.  The first sip was like welcoming home an old friend that had been away on a long trip.  Juicy, creamy, mouth filling, full of flavour and crushable.  The beer, that is, not the friend.  What a delicious and satisfying brew.
A short time later The Establishment announced the arrival of Skyrocket VI.  Would this be a return to form or, like IV and V, would it be a diversion from the flight path that Skyrocket I, II, and III had set?
Skyrocket VI looked good in the glass.  Hazy, peachy orange in colour, but with a slightly yellowish cast.  The hops (Mosaic and El Dorado) have long lists of aromas and flavours in their descriptions but the primary aroma I got was that of white grapefruit juice.  The aroma became a little more complex as the beer warmed up a bit, revealing some tropical fruit notes but also a slight vegetal flavour that reminded me of celery.  There was also a bit of hempy dankness present.
The first sip answered the question as to whether this iteration of the Skyrocket series followed the path set by the first three.  For me, it did not.  Whereas III was an example of the whole being greater than the sum of its parts, VI seemed as if its parts were trying to find each other but not quite coalescing.  The flavours were there (grapefruity citrus, some mango and a few other tropical fruits) but the bitterness of the hops seemed to suppress the juiciness of this NEIPA.  There was also an odd sensation that I could taste the water in Skyrocket VI which made it seem somewhat thinner than its predecessors.  
All that being said, Skyrocket VI is still a pretty good example of a NEIPA.  It just suffers from inevitable comparison to its older brother.  Skyrocket III set the bar at a height that IV, V, and VI have not quite been able to reach.  Rating: B
Russell Brewing Red & Black Currant Sour (5.5% ABV)
Sour beer is nothing new.  The Lambic beers of Belgium and the German Gose style trace back to the 1200s.  Lambics are often flavoured with fruit (cherry, peach, strawberry, raspberry, black currant etc.) while most Goses are quite lemony in character and contain coriander and salt.  
As was done with IPAs, North American brewers are rewriting the rules when it comes to sour beers.  Some are true to tradition, such as the magnificent Westbrook Gose from, of all places, Mount Pleasant, South Carolina.  Many others throw caution to the wind and just seem to want to make a pleasantly sour brew from a myriad of fruits and, on occasion, vegetables.  Sometimes it works, often it doesn't, but new mashups are always coming down the pike.
While not my favourite style of craft beer, sours certainly have their place.  They are refreshing on a hot day or nice as that first beer of the evening to cut the dust and perk up the palate before getting into something bigger and more complex.  Russell's Currant Sour, however, really made me sit up and take notice.
The first thing that caught my attention was the gorgeous can.  It has a deep, matte purple background with over two dozen lovely little drawings of various objects and creatures including a single amanita muscaria (Alice's mushroom) just to the right of the logo.  I'm reminded of Vancouver in the '80s, but I digress.
Among the drawings are a few clutches of both black and red currants which hint as to what is contained therein.  
This beer pours an absolutely gorgeous, murky, "blood orange" red with a pretty, deep pink, bubbly head that diminishes quickly.  It has a fresh berry nose that gets jammier and reveals some yeasty funk as it warms.  The sourness is fruity and pleasant with a lovely cassis punch.  What I appreciate most about this sour is that it isn't a mashup of two or three different fruits trying to create some new flavour and falling short.  It set out to be a currant sour and it succeeds admirably.  It's rare that a sour holds my interest from first sip to last but this one does so in spades.  Bravo Russell.  Rating: A-
Eighty-Eight Brewing Skeleton Crew Fig Newton Barley Wine (10.8% ABV)
2020 has been a challenge, to say the least, but one thing we can't complain about is the lovely fall and early winter weather we've been enjoying.  And yet we all know what's coming.  At some point winter will hit with a vengeance and we will be reaching for those higher ABV, belly warming beers that we can spend some time with, sipping them slowly as we attempt to stay warm for the next few months.  Barley wine, weighing in at anywhere from about 8.5%-15% ABV, certainly fills the bill.
If you go to the Eighty-Eight website you will learn that Skeleton Crew Barley Wine was first brewed on March 18, 2020 placing it among the very first brews of lockdown.  It was made to celebrate Eighty-Eight's second birthday. They state that they wanted to make something "silly and bold" and "between cool and crazy".  They also tell us that it was made with a huge malt bill, 20 kilos of actual Fig Newtons (shout out to Grammas everywhere) and was aged on American Oak and fresh figs for 5 months.
Skeleton Crew pours a deep, beautiful caramel amber with a French Vanilla off white head that dissipates quickly.  It has a very pleasant fragrance of figs, Fig Newtons, perhaps a bit of raisin, and some slightly burnt sugar.  A pleasing hint of warming alcohol rounds out the inviting aroma.
The first sip takes me straight to England.  The fig, Fig Newton, and burnt sugar from the nose are all apparent in the taste.  There is also a hint of apple in the background and the oak puts me in mind of the bourbon I may or may not have overindulged in last week.  The alcohol is noticeable but not in any unpleasant way with a viscosity that is a bit lower than your average barley wine.  A nice warm buzz lingers in the mouth for a time.  As it approaches room temperature Skeleton Crew Barley Wine really begins to shine.  This beer would be a nice sipper alongside a serving of Sticky Toffee Pudding.  Rating: B+