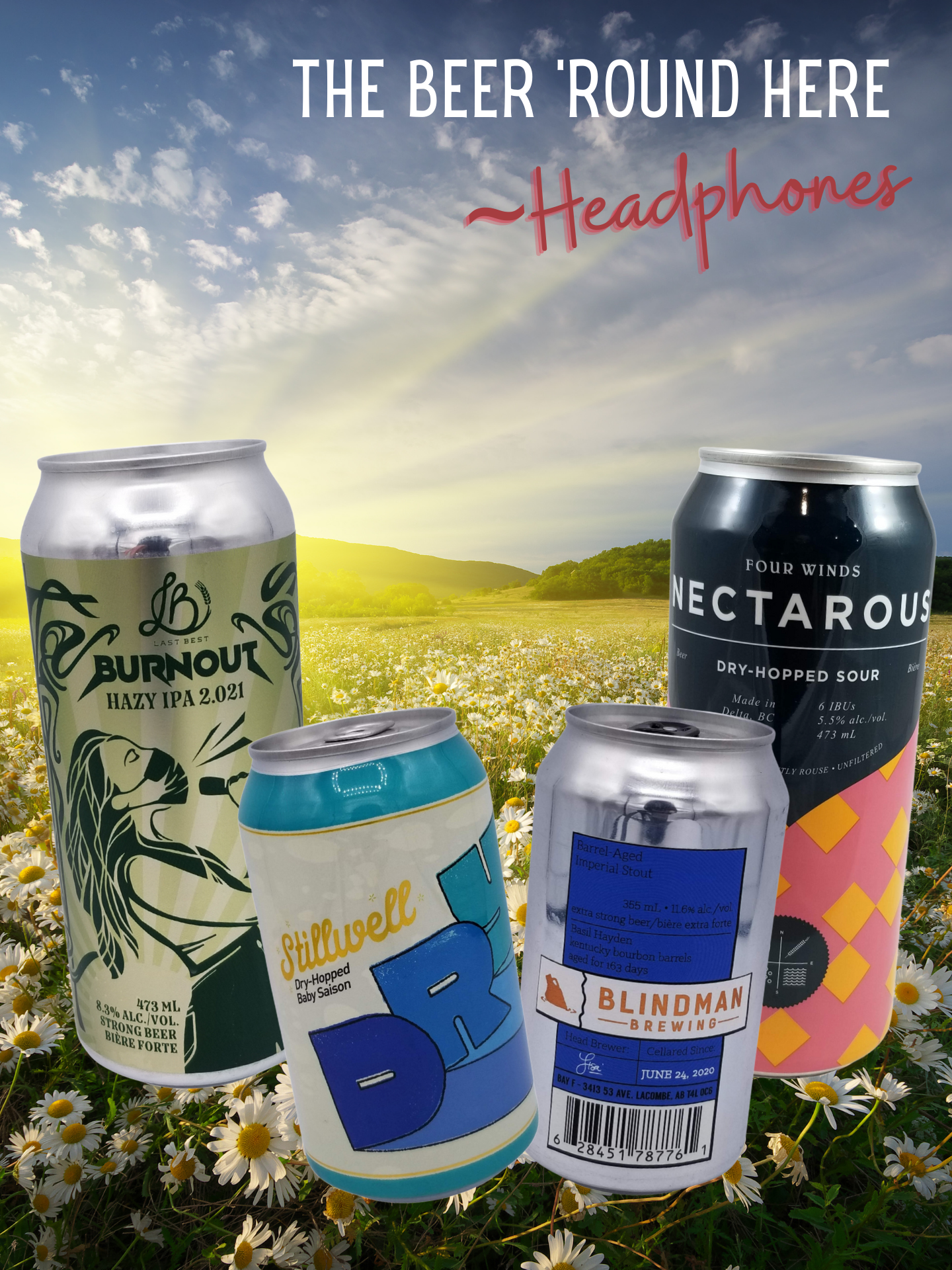 The Beer 'Round Here Vol. 3
Stillwell Brewing (Halifax, NS) Stillwell DRY Dry-Hopped Baby Saison (4.2 ABV)
From the brewers:  Stillwell Dry is a dry-hopped baby saison designed to make you happy.  It smells like lying down in a meadow and being enveloped by a wave of flowers, and tastes like a sunny, Saturday afternoon.  Dry is a can conditioned, dry hopped baby saison basically made for the beach.  (It's) dry hopped with a bunch of Saphir hops, which gives the beer a big, grassy, herbaceous character that plays well with floral saison fermentation notes. 
Having never heard of a baby saison I wondered what exactly that meant.  Was it a baby because of the small can, was it because of the low ABV, or was there some other reason?  I decided it was probably due to the 4.2% ABV but I wasn't sure so I called Stillwell and was assured it was, indeed, due to the low alcohol content.
Originally saison, aka farmhouse ale, was brewed for Belgian farm workers to drink while labouring in the fields.  For that reason, traditional saison was rarely above 3% ABV.  To call a modern saison a baby at 4.2% is further evidence that the modern craft brewing movement continues to rewrite the rules of style.
Stillwell DRY pours a rather unattractive, oxidized pear juice colour.  It's quite hazy and, initially, has a nice, mousse-like head that soon recedes.  The carbonation is rather gentle with very small bead bubbles.
The first note in the aroma is that of sweet Belgian yeast, not unlike the smell of a still warm sweetroll.  This yeasty scent is followed by a bit of coriander and some Meyer lemon and pineapple.  All in all a very inviting bouquet.
The taste is much drier than the aroma would suggest with some Brett-like tart funkiness leading the way.  There is, however, an undertone of flowery sweetness reminiscent of chamomile.  Upon swallowing this quickly morphs into a less pleasant lemon pith bitterness that tends to linger.  It should also be noted that within about fifteen minutes of pouring this beer the carbonation was pretty much flat.
Every sip of this beer started nicely but finished in a less pleasant way.  This compelled me to take the next sip.  Hmm...  Maybe Stillwell is onto something here.  Rating: C+
Four Winds Brewing (Delta, BC) Nectarous Dry-Hopped Sour (5.5% ABV)
Nectarous definition:  Extremely pleasing to the taste; sweet and fragrant; ambrosial.
From the brewers:  In the pursuit of sour, complex acidity balanced by tropical fruit esters gives way to a clean, tart finish.
Long before the recent cascade of sour craft beers there was Nectarous.  We heard about it long before it appeared on Alberta shelves.  When it finally arrived many of us were very excited to try this already nearly mythical beer.  It did not disappoint.
Winner of Beer of the Year at the 2016 Canadian Brewing Awards, Nectarous is quite a stunner in the glass.  Somewhere between pineapple and lemon yellow, it has a generous, slightly off white head of frothy, soapy bubbles that quickly flattens out but never quite disappears.  It has a subtle haze and active, small bead carbonation.  
The aroma is complex but not aggressive.  Pineapple and lemon, echoing the colour, are accompanied by candied tropical fruit notes.  The Brett Trois lends a subtle, road apple funkiness (think Stampede Parade but dialed way down).  There are hints of ripe stone fruit, especially peach and nectarine, and a slight, wet river rock earthiness.  The fragrance truly is ambrosial and very enticing.
The first sip reveals a delicate dance between sweet and tart with a very benign Brett funk.  Nectarous is wonderfully refreshing.  Ripe peach and plum account for the sweetness with lemon and a hint of Granny Smith apple contributing the sourness.  Velvety on the tongue, this beauty finishes off dry with just the slightest hint of barnyard on the back end.  Wonderfully balanced and clean, Nectarous displays a great deal of finesse, a trait sadly lacking in many of the sours currently on the market.  Rating: A
Last Best Brewing (Calgary, AB) Burnout 2.021 IIPA (8.3% ABV)
Last Best Brewing was one of the earlier players in the Calgary craft beer game.  They had gotten off to a decent start but then came IPA #3 Tokyo Drift.  It was brewed with wheat and oats and quite heavily dry hopped.  Hazy, juicy, and delicious, it was a NEIPA before most of us had any idea what a NEIPA was.  Last Best was really onto something.  Over the years Tokyo Drift drifted a bit.  It's had it's ups and downs, perhaps due in part to being made by different brewers, but it had made it's mark in Calgary brewing history.
It was partially because of Tokyo Drift's legacy that I had high hopes for Burnout 2.021 IIPA.  The can is certainly interesting, featuring a mask wearing young woman belting out lyrics into a microphone.  A quick look at the back of the can would suggest she is singing the litany of 14 reasons why this past year has been such a pain in the, well, you know.  The list is pretty comprehensive, beginning with "F*CK The Second Wave" and ending with "F*CK 9 More Months Until Full Vaccination''.   So, Last Best, what do you really think?
On their menu Last Best describes Burnout as "Passionfruit, tropical, pineapple, citrus, sneaky booze".
Burnout pours with very active carbonation trying to push the head up and over the top of the glass.  The top layer is made up of big, soapy bubbles reminiscent of the head on a root beer float.  The bottom layer is a tighter froth.  Both layers soon settle into about a half centimeter of vanilla ice cream coloured foam that hangs around.  The beer itself has a silky haze and a lovely apricot colour. 
The aroma is that of sweet, ripe pineapple and creamy mandarin orange with a hint of cut grass earthiness and an odd, but very subtle, vegetal character that suggests steamed artichoke.
The citrus in the taste leans more towards lemon and lemon pith.  It is quite juicy and, for some reason, had me salivating like crazy.  The mouthfeel was a strange combination of velvety and watery.  The hop flavours are not over the top assertive and yet I experienced a bit of hop burn.  The 8.3% ABV is reasonably well hidden.  It finishes with a tinny astringency that had me thinking about my next beer before I was even halfway through.  Rating: C
Blindman Brewing (Lacombe AB) Bourbon Barrel Imperial Stout (11.6% ABV)
From the brewers:  Our annual bourbon barrel-aged stout release is back just in time to close out 2020.  This is the fifth year we have released this beauty, each year using fresh bourbon barrels from a different distillery- Basil Hayden the choice this year.  The beer sat in the barrels for 163 days, imparting a spicy but sweet bourbon taste.
Blindman's Bourbon Barrel Stout pours as dark as espresso and is completely opaque.  It yields one finger of coffee-with-cream coloured head which disappears quickly.  
The aroma is brimming with coffee, prunes, and figs.  The bourbon is there but on a nearly covert mission along with some very dark, bitter chocolate.  It's obvious this is a brew that demands some time be spent with it.
The taste involves the same players as the aroma but now the bitter, dark chocolate steps forward.  The prune outweighs the fig and there is a hint of plummy tartness.  There is a decent amount of bourbon which carries a touch of vanilla but is not overpowering.  It finishes drier than the nose would suggest and the 11.6% alcohol shows itself as it warms the throat going down.  
This is an impressive barrel aged stout although reviews of the Heaven Hill Bourbon Barrel version from a couple of years ago suggest that at least one previous iteration was notably better.  I will certainly be sure to try all future editions of this annual offering.  Rating: B+