Same Day Delivery Tuesday through Saturday. Order by 3pm!
Login
Log in if you have an account
Register
By creating an account with our store, you will be able to move through the checkout process faster, store multiple addresses, view and track your orders in your account, and more.
Create an account
The Beer 'Round Here Vol. 2
03 Feb 2021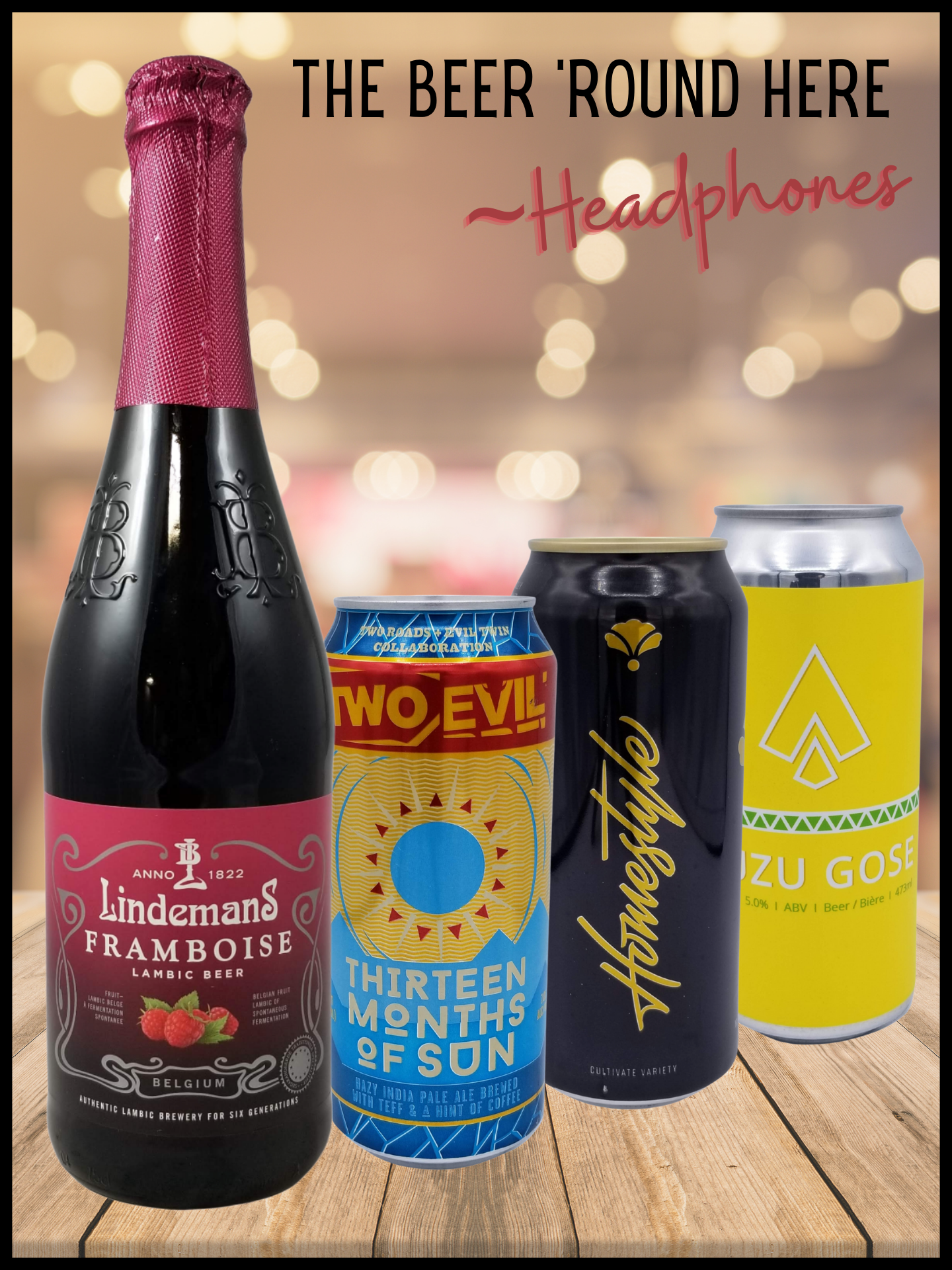 There was a time when the words cold and beer were inseparable. We'd buy our mass produced beer at the ALCB store ($6.25/dozen), where it had been sitting unrefrigerated, and rush home to get it into the fridge or, if we were in a hurry, bury it in some ice. How cold did we want that beer? Ice cold, of course.  All the better if you kept a couple of mugs in the freezer that you could pour that beer into. The mugs would turn a bit of the beer's head into slush. Aah, thirst quenching perfection. How could it get any better than that?
We had all heard rumours that the Brits drank warm beer. We thought they must be crazy. Turns out they knew better than we did.  
First of all, they weren't drinking their beer warm. They were drinking it at cellar temperature (about 10-14C or 50-57F). Secondly, they were drinking ales and we were drinking lagers.
While there are quite a few craft lagers out there, the lion's share of craft beer is ale. Ales are fermented at warmer temperatures and are not meant to be drunk too cold. Lagers, on the other hand, are bottom fermented at cooler temperatures and are meant to be drunk colder than ales. If you are drinking all styles of craft beer at fridge temperature, you are often missing out on a lot of what these beers have to offer. This is true of aroma as well as taste. The colder the beer, the fewer aromatics it will give off. Since we are told that 80% of taste is smell this is no small consideration.
This does not mean that you shouldn't store your beer in the refrigerator.  Fridge temperature which, on average, is around 4C (39F) will greatly slow degradation and prevent continued fermentation. Even at cellar temperature hop flavour will deteriorate much faster than at fridge temperature. In addition, some styles of craft beer contain residual sugars and yeast. Keeping these beers at warmer temperatures can lead to further fermentation in the can. If enough pressure builds up these cans may actually explode. So unless you're dealing with a beer specifically designed to improve with aging (a topic for a future column) the fridge is the best place to keep your beer until you plan to drink it. When the time comes, just make sure to take the beer you plan to drink out of the fridge ahead of time and allow it to come up to a more suitable temperature. This may seem like a bit of a hassle at first but once you see how much better a beer can be if consumed at the proper temperature I'm pretty sure you'll agree that it's well worth the effort.
With most craft beer now in cans, a cold water bath will lower temperature quickly and a warm water bath will raise it quickly. I often just hold the can in my warm hands for a few minutes if it's a bit colder than I'd like.  
If you're new to the concept of controlling the temperature of your beer I would recommend picking up a quick read thermometer at any store that sells kitchen gear. They start as low as $12-15. That way, when you discover the temperature at which a particular style of beer shines, you can make a mental note. You'll soon see that different styles of beer differ greatly as far as ideal drinking temperature is concerned.
To a degree, preferred temperature will differ from person to person just as it does from beer to beer. Personally, I drink most of my beer much warmer than recommended (up to 18-20C for some IIPAS and IIIPAs). Decide what temperatures work best for you.
Here are some general rules for beer temperature. Treat them merely as suggestions.
Drink
-lagers colder than ales
-lighter beer colder than darker beer
-lower alcohol beer colder than higher alcohol beer
A quick search of the internet yields a myriad of websites giving ideal temperatures for various beer styles.  Almost all of them seem to offer virtually the same temperature ranges. Here are the suggested ranges for a number of the more common styles of beer.
Light lager- .55-4.4C or 33-40F
Pale lager, Pilsner- 3.3-7.2C or 38-45F
Gose- 4.4-7.2C or 40-45F
Belgian Pale, Triple- 4.4-7.2C or 40-45F
Wheat Beer- 4.4-7.2C or 40-45F
Dark Lager- 4.4-10C or 40-50F
Pale Ale- 7.2-10C or 45-50F
Sours- 7.2-10F or 45-50F
IPA- 7.2-12.8C or 45-55F
Stout, Porter- 7.2-12.8C or 45-55F
English Pale Ale, ESB- 10-12.8C or 50-55F
Belgian Double- 10-12.8C or 50-55F
Barley Wine, Imperial Stout, Belgian Strong or Quad, Doppelbock- 12.8-15.5C or 55-60F
Imperial, Double, Triple IPA- 12.8-15.5C or 55-60F
REVIEWS
Île Sauvage (Victoria, BC) Yuzu Gose (5% ABV)
For those of you not familiar with Yuzu, it is an Asian citrus fruit. According to Wikipedia, it is tart and fragrant and resembles grapefruit with mandarin overtones.  It's often used in Japanese cuisine and is the main flavour in ponzu sauce.
Gose (GOH-zuh) is an ancient style of beer from Germany that had almost faded out of existence until North American craft brewers revived it several years ago. It's usually very light and tart with a hint of salt. The style originated in Goslar, Germany where it is believed to have been first brewed in the year 1000. It took some 700 years before it became a popular style. It is a top fermented ale and usually contains around 50-60% wheat.  Coriander is another typical ingredient.
About six years ago I was sitting at the excellent Torst craft beer bar in Greenpoint, Brooklyn.   was sampling a number of draft beers from their stellar list but, every now and then, I noticed the bartender opening a white can and sending it out. I enquired and he told me that it was Westbrook Gose from South Carolina. I ordered one and was smitten. To me it tasted like the world's best (adult) lemonade with just a tiny hint of salt. I would later learn that it is considered one of the best examples of Gose available anywhere. All of this left me with very high expectations as I opened a can of Ile Sauvage Yuzu Gose.
This Gose pours slightly hazy with a frothy, bubbly head that disappears quickly. It has a slightly "bruised" golden colour and a very active, small bead carbonation. The aroma is pleasant and refreshing with a Meyer lemon scent leading the way and leaning a bit more sweet than sour. Think lemon curd or lemon meringue pie.
The taste opens with tart lemon and a hint of mandarin. There is also a touch of citrus pith bitterness.  The salt is in there somewhere but takes a back seat to the citrus tang. Mouthfeel is a little thin and watery but this is not surprising for the style. There is a bit of pie crust in the finish, no doubt from the wheat, which echoes the lemon meringue pie aroma. All in all a very refreshing and thirst quenching brew that would be most welcome on a patio in mid summer. Try it now with your favourite soft, creamy cheese.  
Rating: B- (might have been a B but for my memory of the exceptional Westbrook Gose)
Bearded Iris (Nashville, TN) Homestyle IPA (6% ABV)
I'm sure everyone reading this would agree that 2020 was fraught with disappointment. We all suffered in various ways including cancellations of vacations, concerts, and events too numerous to count. The one that hurt the most for me personally was a trip to Nashville that I and three of my friends were planning at the end of April. In addition to various music venues, restaurants, bars, and museums I was really looking forward to spending a few evenings sampling IPAs and IIPAs at the renowned Bearded Iris Brewing in the Germantown section of Nashville. I had never had any of their beers but had been informed by a fellow craft beer nerd that I was in for a real treat. The fact that Bearded Iris was responsible for 8 of the top 10 brews (seven IPA/IIPAs and one stout) on Beer Advocate's list of top beers from Tennessee let me know that these guys were not fooling around. As a dedicated hop head Bearded Iris was not to be missed. Then, Covid...
Fast forward a few months and I was walking around Alberta Beer Exchange when I heard Corey tell a customer, "You should try a couple of the IPAs we just got in from Bearded Iris". Had I just heard what I thought I'd heard? I was practically vibrating as I waited for Corey to finish with that customer. I immediately asked him if he had actually been talking about Bearded Iris. He assured me that he had and showed me the three offerings in the store at that point. I may not have been able to go to Nashville but, in a way, part of Nashville had come to me. I took some of each home and got to work on them.
Bearded Iris refers to their Homestyle IPA as the one which started it all. They explain that it's heavily oated and features only Mosaic hops. It's described as soft and juicy with ripe citrus and berry notes. 
Homestyle pours a slightly hazy pale orangey peach colour. It features a slightly offwhite, bubbly, foamy head which doesn't hang around. The first thing my nose picked up was a blueberry hard candy aroma, typical of Mosaic hops, complemented by hints of citrus, stone fruit, and a faint grassiness. It is very gently carbonated.
This beer is surprisingly lighter, softer, and thinner on the tongue than I had expected. Perhaps this is due to the fact that the recipe was developed before the current NEIPA juice bombs came to dominate the landscape. Given the lightness and the relatively low 6% ABV I am inclined to think of it as more of a Pale Ale or Extra Pale Ale than an actual IPA.
The blueberry and citrus from the nose also show up on the palate. It's fairly wet, refreshing, and very drinkable. It finishes off dry with a hint of peach and an ever so slight astringency. The hops are present but not at all aggressive and there is a faint yeasty funk that is barely noticeable. Homestyle would serve as a good introduction for someone new to the PA/IPA style and would make a great session beer. If, on the other hand, you are used to more of a hops punch from your IPAs you may be left wanting.
One thing I noticed as this beer warmed was the emergence of a vague soapiness. I wondered if it was from the hops which led me to do some research. Apparently with some hops, Mosaic being among them, certain people will taste a bit of soapiness while others will not. This is similar to how some people love cilantro (me among them) while others find it tastes like soap.  
Homestyle would make a great patio beer and would match nicely with bar foods such as nachos or wings. If it were labelled as a Pale Ale or XPA I would give it A- but as an IPA... Rating: B+
Two Roads (Stratford, CT) and Evil Twin (Brooklyn, NY) Thirteen Months of Sun IPA (7% ABV)
From the brewers: Thirteen Months of Sun is a collaboration with Evil Twin Brewing. Two Roads' head brewer, Phil Markowski, travelled to Ethiopia with Jeppe Jarnit-Bjergso from Evil Twin where they met Henok Fentic from Sweden's Omnipollo Brewing to brew an IPA using Ethiopian ingredients including teff, a grain that was one of civilizations first cultivated crops, and Ethiopian Sidamo coffee beans. The result is an original Ethiopian hazy IPA.
So, an American, a Dane, and a Swede walk into a bar...  No, this is not a joke. Thirteen Months of Sun IPA is an unlikely beer crafted by an unlikely collaboration of brewers using some unlikely ingredients from an unlikely country.  When Corey suggested that I review a hazy Ethiopian IPA made with coffee and teff by brewers from three different countries I gave my head a bit of a shake and thought, "Okay, let's do this."   
Before I get to the beer a couple of notes on the ingredients. Teff is a major grain grown in Ethiopia and is used to make injera, the fermented flat, moist bread served with Ethiopian food. Sidamo coffee tends to have a citrusy aroma and is somewhat floral with hints of nuts.
Thirteen Months pours a golden amber with a bruised stone fruit cast. It's fairly hazy with a gassy, offwhite head which leaves large, soapy bubbles after the foam subsides.  
The first aroma that hit me was yeasty like raw pizza dough. This was followed by tangerine, a hint of coffee, and a vague sweetness. The coffee aroma was verging on mocha and there was some caramel from the malt. Finally, I picked up just the slightest bit of cigarette smoke but it was oddly pleasant.  This was most definitely not a textbook IPA.  
The initial taste is that of a juicy, citrusy NEIPA but that soon gives way to a more earthy, vegetal flavour with subtle hints of coffee. There is a bit of dankness and it all finishes off dry with a touch of pithy bitterness.
This is a daring and unique beer which, if you are familiar with Evil Twin, should come as no surprise.  If you have a healthy sense of adventure give it a try. After all, who knows when the next coffee flavoured Ethiopian hazy IPA will show up?  Rating: B+
Brouwerij Lindemans (Vlezenbeek, Belgium) Framboise Lambic (2.5% ABV)
If anyone thinks that Sours are a new craft brewing innovation they have only to look to Belgium to see that is not remotely close to the truth.  Lambic beer has been made in Belgium at least as far back as the 1200s and probably longer. It wasn't until the 1860s that Louis Pasteur discovered yeast and was able to determine that it was responsible for the leavening of bread and the fermentation of alcohol. This means that for at least 650 years no one knew what yeast was or that it even existed. What the Belgians did know, however, was that if their wort, the liquid produced by the mashing process, was left in open vats and the breezes were allowed to blow through the brewery something magical would happen and alcohol would be produced.  
Lambic beer from around Brussels and nearby Pajottenland (home to Lindemans) is produced in this way.  The natural yeasts that inhabit the area settle on the wort and spontaneous fermentation occurs. After a while, that young beer is conditioned in oak barrels (usually for 1-3 years) and lambic beer results. It has a natural sourness from the lactic acid produced during fermentation. This beer can be consumed as it is but can also be used as a mother beer to which various kinds of fruit can be added to create a number of different fruited lambics.
Lindemans Framboise is one such beer and is flavoured by adding large quantities of pure raspberry juice to the lambic mother. If you love raspberries then this is the beer for you. It couldn't possibly be any more raspberry forward. From the moment I removed the crown and popped the cork the most wonderful raspberry aroma filled the air and lingered until the last drop.
This beer pours such a dark red that it is nearly black and seems opaque. However, when I shone a flashlight through the opposite side of my glass it became a gorgeously deep ruby red. The head is an equally gorgeous dusty magenta. While most of the head dissipates quite quickly a thin layer stubbornly hangs around for the duration.  
The aroma is an intense, sweet, tart, jammy raspberry.  Spectacular. There is a barely discernible lambic funk that becomes slightly more apparent as the beer warms a bit.  
The first sip fills the mouth with a wonderful raspberry tartness nicely balanced by a small measure of sweetness. As the beer begins to warm up a little there is just a touch of nicely aged balsamic vinegar.  Again, a suggestion of lambic funk is somewhere in the background as the raspberry notes dance all over the tongue.  
There's not much more to say. This is a raspberry bomb for raspberry lovers. It would be ideal as an aperitif with some Brie, Camenbert, or a mild, creamy blue cheese.  Rating: A
If you're interested, there is a very charming video on YouTube called "Welcome to the Lindemans Family". It shows the brewery, the brewing process, and the lovely surrounding area. Six minutes well spent. 
Next year Brouwerij Lindemans will celebrate its 200th anniversary.
Leave a comment