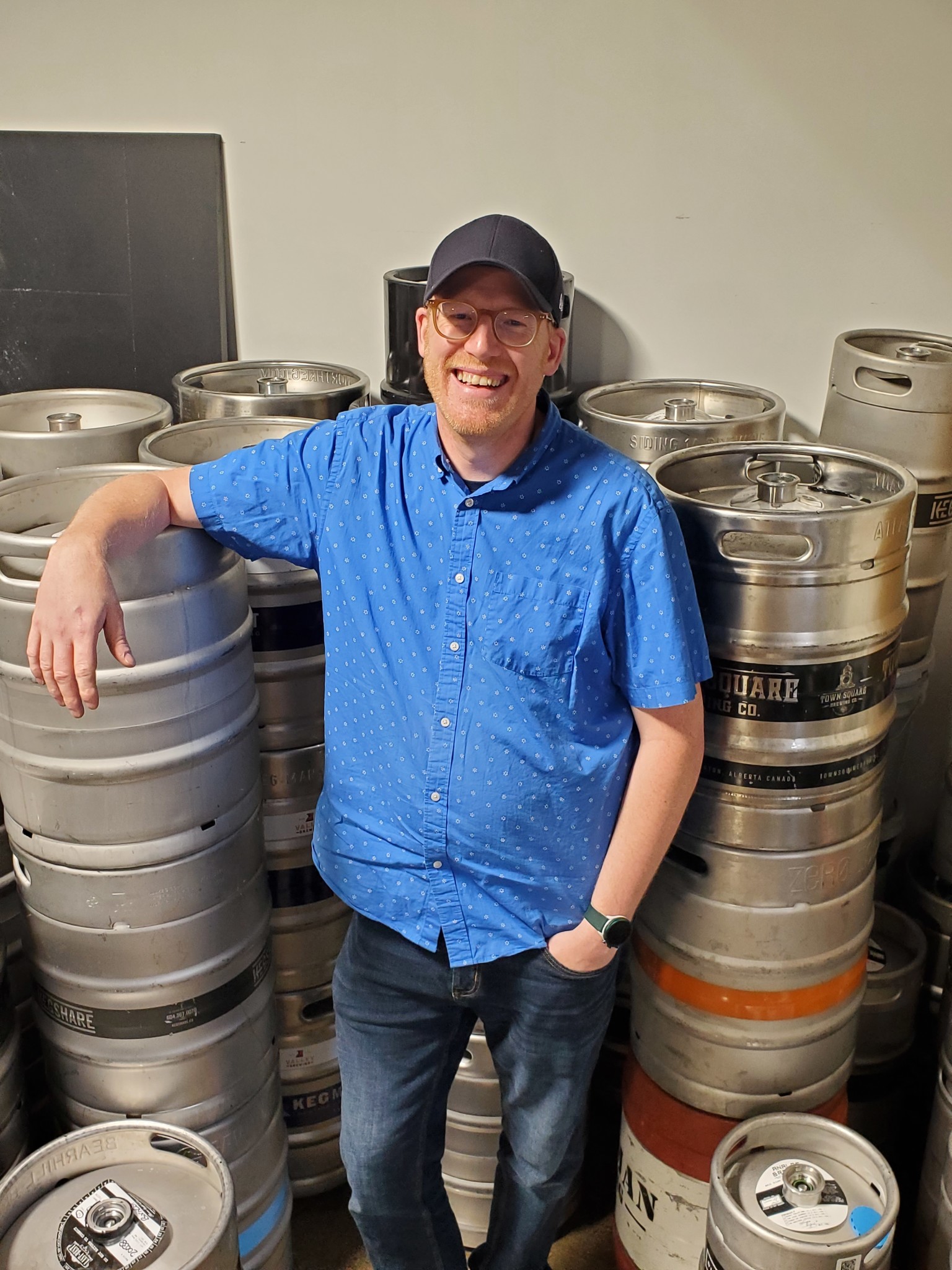 Meet the Team! Interview with Warehouse Manager, Derik Storm
As customers and friends of ABX, I'm sure you've had the opportunity to get to know our awesome front of house staff. But you've probably never seen the front staff filling growlers. And that is 100%  because of two fantastic humans who run our back end operations. I had the chance to sit down with Derik Storm, our Warehouse Manager, and ask him a few questions so that all of you get to know a little more about who is filling your growlers!

EW: Derik! What do you do here at ABX?

DS: Eric! I am the warehouse manager here at ABX, helping run the day to day operations in the back, making sure everything is running smoothly, and that we have the proper amount of growlers for customers. And making sure the fridges are filled at all times.
We also fill all of the online orders for delivery and curbside pick-up and doing inventory for the store.

EW: That's a lot!

DS: Yeah, it's definitely a lot of stuff now that I think about it. But on a day to day basis, I'm just focused.

EW: I've seen that focus! So, a little bit about you. Are you born and raised in Calgary?

DS: Born and raised here-

ZM: *Zak shouts from the back* I know you're not!

DS: Okay… well I was born in Brooks, I lived in Cessford, which doesn't exist anymore, but I moved to Calgary when I was one year old and I have lived here ever since. Except for two years in Nova Scotia with my wife, Tammy.

EW: Where did you work, before you worked at ABX?

DS: I was a professional joke teller….

*crickets*

DS: I was the warehouse manager at a company that packaged and sold gaskets and fasteners to the oil rigs. But we were usually done our work day by 9 am and then we just sort of twiddled our thumbs. At ABX I love being busy, I love having things to do all day long.

EW: So what is your favourite part about working at the Alberta Beer Exchange?

DS: I love being around people all day. I love being around Zak, Kosh and Corey all day long. Tarah is pretty great too…Oh and I guess Eric is alright too. *Derik Winks*

EW: So we heard a bit about Zak, I take it you don't work alone in the back?

DS: Yeah, Zak and I work together back here to make sure everything is filled, stocked and checked.

EW: So, Zak checks all of your work to make sure you didn't make any mistakes?

DS:….Exactly. Haha, I honestly couldn't do this job without Zak.

EW: What kind of beer do you like to drink Derik?

DS: I really tend to lean towards juicy IPA's, but I'm starting to drink lighter beers. Some of the big IPA's make me sleepy.

EW: What are some of your favourite beers?

DS:  Probably my favourite is "5 Hundie" from O.T. Brewing. And for a lighter beer, I am really enjoying "Earl's Ale" from Born Colorado. It's sooo good! It's like a cuppa tea and beer!

EW: When did you start enjoying craft beer?

DS: I think my gateway into craft beer was when I first tried Phillips "Blue Buck". It was the first one that I ever had that wasn't like…the big brands, that made me realize that there was more to beer than the cheap cheap price.

EW: Okay, So for those customers who come into ABX and who don't see Corey, Akosha, or myself in the front. They might run into you, and they may be asking "Who is that very tall human being?" That tall human being is you. So… how tall are you for reals?

DS: I am 6 foot 6, AND a ginger…a rarity isn't it? AND left handed? Oh my gosh!

EW: Thanks for taking the time to chat my friend! Anything else you'd like to say?

DS: Come on by! Buy some beer! It's the happiest place on earth here!